---
Scary Piano Chords: The Halloween Progression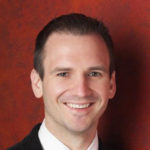 Instructor
---
Music Style
This lesson does not target a specific music style.
Free Lessons
Get free weekly lessons, practice tips, and downloadable resources to your inbox!
Happy Halloween! Do you want to get in the Halloween spirit and play scary piano chords for a party or trick-or-treaters? In today's Quick Tip, you'll learn the Halloween progression with approaches for both beginners and intermediate level players using the following techniques:
Rhythmic improvisation
Creepy rocking style
Feel free to follow along with our Smartsheet as you work through the Quick Tip. Let's dig in and get scary!
Step 1: Scary Piano Chords Rhythmic Improvisation
If you're more of a beginner, this is a great place to start! Let's start by taking a look at the Halloween Progression:
As you can see, there are only two chords! If you're a fan of scary movies you've definitely heard this chord progression before. The theory behind it is very simple: two minor chords spaced a minor 3rd apart. Don't just play these chords in root position though; the inversion matters! This chord progression sounds best if the first chord (C minor) is played in second inversion and the second chord (Eb minor) in first inversion.
First inversion chords have the 3rd as their lowest note, and second inversion chords have the 5th as their lowest note. You'll notice that the first chord's lowest note is G – we are going to be doubling the lowest and highest notes with all these chords – and the second chord's lowest note is Gb. G is the 5th of C minor and Gb is the 3rd of Eb minor. This descending chromatic motion is a big reason why this chord progression sounds so creepy!
Start by playing the chords as whole notes and go back and forth a few times to get a feel for it. Pay attention to how it sounds and feels alternating between second inversion C minor and first inversion Eb minor. This is key as we move on to more advanced methods later. With your left hand, play the root, 5th, and root again to create a very solid, full sound underneath the right hand chords.
Once you're comfortable switching between chords, try improvising the rhythm of the chords. There's no right or wrong way to do this, but if you're interested in the way Jonny plays here's how he did it:
You can also do a tremolo with these chords for an extra spooky effect! To execute a tremolo, position your hands over the chords and rock them back and forth so that all the notes are played rapidly. It's easier than it sounds!
Once you've mastered these techniques, let's move on to the creepy rocking style!
Step 2: Creepy Rocking Style
Let's look at the creepy rocking style before we dig in to the details:
This sounds so scary! To play this, it's best to look at the right hand chords as two pairs of notes. The first pair is the bottom and 3rd note, and the second pair is the second from the bottom and top note. Essentially, we are breaking up the four note chord into two parts, and alternating between them. Spend some time practicing this rocking style. It can be tricky to get your fingers to work independently from each other as well as working as pairs.
Pay attention to the time signature as well. The creepy rocking style works best as four groups of three eighth notes each (hence the 12/8 time signature). You can play this in 4/4 as well, but 12/8 sounds creepier to me!
With the left hand, we are just going to use root, 5th, and root again breaking up the original left hand chords from above. The left hand part is easier than the right hand and it shouldn't take you too long to get it down. Putting it together can be tricky though! Take your time with it and start slow. As always, make sure you're playing everything correctly and not making any mistakes before you go faster!
Feel free to move the parts around in different octaves. The right hand portion sounds extra creepy in the upper registers! Experiment with different octaves to find the sound that suits your ears best and have fun with it!
A Little Extra
One of my favorite things to add when I'm playing scary piano chords is not a chord at all, but a sequence of intervals. I love the way consecutive minor 9ths sound going up the keyboard, like this:
An easy way to think of minor 9ths is that the two notes are a half step apart separated by an octave. Every time I play this for people they get a little freaked out by how creepy it sounds! Hold down the pedal for extra effect and feel free to move up or down on the piano as you play more minor 9ths. Combine this with the creepy rocking style to create some very creepy sounds!
If you've enjoyed today's Quick Tip and want to dig into more detail on the topics covered, check out The Halloween Progression Challenge course where Jonny goes into much more detail about the Halloween Progression. You can also check out our Epic Minor Chords 1 and Epic Minor Chords 2 courses for more scary piano chord progressions!
Thanks for learning, and see you in the next Quick Tip!
Blog written by Austin Byrd // Quick Tip by Jonny May
More Free Lessons
This contemporary jazz piano arrangement of the traditional holiday classic "The First Noel" sounds so beautiful that it's bound to strike a chord.
Learn a beautiful jazz piano arrangement of "O Come All Ye Faithful" ("Adeste Fideles") and jazz arranging tips for other holiday favorites!
In this complete guide on 7th chords, Jonny breaks down the 5 categories of 7th chords on piano that form the foundation for jazz harmony.
Looking for downloads?
Subscribe to a membership plan for full access to this Quick Tip's sheet music and backing tracks!
Join Us
Get instant access to this Quick Tip and other member features with a PWJ membership!
---
Guided Learning Tracks
View guided learning tracks for all music styles and skill levels
Progress Tracking
Complete lessons and courses as you track your learning progress
Downloadable Resources
Download Sheet Music and Backing Tracks
Community Forums
Engage with other PWJ members in our member-only community forums
Become a better piano player today. Join with the 14-Day Free Trial today!